Board-certified general and cosmetic dentist, Dr. Stuart Ross believes that his practice is focused on providing the most comfortable, effective, conservative, and aesthetic treatments possible for his patients at City Smiles DC. Dr. Ross has been in private practice since 1978, and in the same location since 1980 in Washington, DC. He has proudly held numerous positions in the dental community for more than 30 years, and is always attending continuing education courses both locally, nationally, and globally to keep himself and his dental skills on the cutting edge of technology.
Dr. Ross was recognized in the November 1997, February 2006, August 2009, April 2011 and March 2017 issues of the Washingtonian Magazine as a "Top Dentist," and was highlighted in the March 1999 issue of Cooking Light, and the November 2001 issue of Readers Digest. He has been featured on CBS, CNN, NBC, News Channel 5 and 8, and 100.3 Metro Talk. Dr. Ross is often invited to speak at national and international organizations, and has published articles on the technology of conservative all-in-one appointments.
See Dr. Ross' profile on Healthgrades.
Special Skills and Training
Dr. Ross and his team have integrated new technologies into the practice throughout the last 35 years, and has found each new development to be helpful from every point of view. He has the CEREC® System, and successfully completed more than 17,000 restorations. Dr. Ross has also used an intraoral camera for 20 years, and added cosmetic computer imaging, digital X-rays, 3D imaging (a 360º scan), and several innovative patient comfort devices to his practice.
Dr. Ross and his experienced team are dedicated to listening and understanding each patient's needs and providing Four Seasons caliber hospitality. With his vast experience in almost 4 decades of general and cosmetic dentistry, Dr. Ross provides his patients of all ages with a variety of treatments and surgical procedures, such as Invisalign® Orthodontics, dental implants, bone grafting, extractions, restorative dentistry, laser gum treatments, and more for his valued patients.
Dr. Ross attended Roanoke College in Salem, VA and graduated with a Bachelor of Arts in 1972. He continued his education and studied dentistry at the University of Pennsylvania School of Dental Medicine in Philadelphia, PA, and received his Doctorate of Dental Medicine in 1975.
Past & Present Memberships:
American Academy of Computerized Dentistry
American Academy of Cosmetic Dentistry
American Dental Association
Academy of General Dentistry
Academy of Laser Dentistry
Dental Organization for Conscious Sedation
District of Columbia Dental Society
International Society of Computerized Dentistry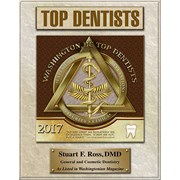 Dr. Ross is also active in the community outside of the sphere of his dental practice. He has served as a Trustee for the American Cancer Society, and was on the Board of Directors for the Washington Project for the Arts.