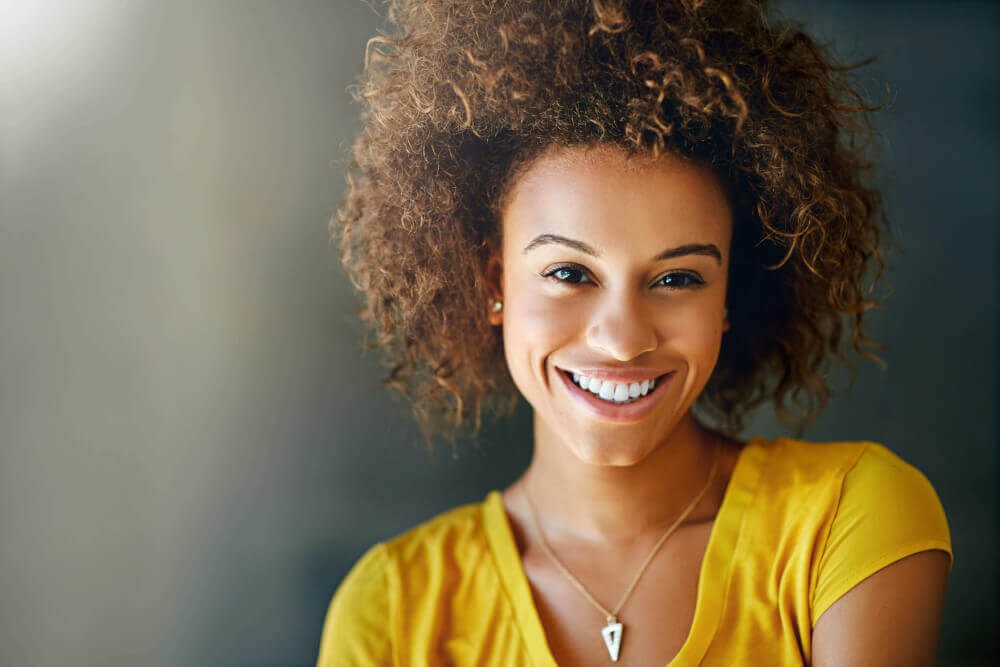 With advances in modern dentistry and dental technologies, there are countless options available to help correct or enhance your smile. One of the most popular cosmetic procedures among patients in Washington, DC and Northern Virginia is the application of ceramic veneers. Whether you are looking to address discoloration, damage, or the size and shape of a tooth, Dr. Stuart Ross, Dr. Olga Spivak, and the expert team at City Smiles DC are here to help determine if ceramic veneers are right for you.
What Are Ceramic Veneers?
Ceramic veneers are wafer-thin shells (1 – 1.5 mm) designed to fit over the front surfaces of your teeth to correct and conceal cosmetic flaws such as color, shape, size, and more. City Smiles DC in Washington, DC boasts cutting-edge technologies and professional expertise in ceramic veneers, including state-of-the-art options for same-day veneers.
Am I a Good Candidate for Ceramic Veneers?
The best way to find out how ceramic veneers can improve your smile is to be evaluated by Dr. Ross in our convenient Washington, DC location. During your initial consultation, Dr. Ross will assess your overall health, discuss your goals, and recommend the most appropriate treatment or procedure for you. Because veneers are able to correct and conceal such a wide variety of cosmetic flaws, many patients are candidates for ceramic veneers.
A patient must first and foremost have good oral health with otherwise structurally sound teeth before having veneers placed. Dr. Ross and the dental professionals at City Smiles DC will diagnose and treat any issues that may be present before proceeding with the veneer process. Likewise, patients must be committed to maintaining their oral care routine post-procedure with twice-daily brushing and flossing in addition to regular dental cleanings in the office in order to achieve the best and longest-lasting results from their veneers.
Some of the most common problems that can be corrected with veneers include:
Chips or Cracks: When an otherwise healthy tooth is damaged — through trauma, eating, or day-to-day wear and tear — a chip or crack can result. If the tooth is structurally sound, a veneer can be placed to conceal the flaw and restore its original appearance. This may help to avoid having to replace the tooth or using a full-coverage restoration, such as a crown, which necessitates removing a larger amount of healthy tooth structure.
Discoloration: After years of drinking red wine and coffee, or smoking cigarettes, patients often complain of a dull, yellow, uneven, or stained smile that may not respond well to other whitening methods. Fortunately for our Washington, DC and Northern Virginia patients, ceramic veneers are virtually stain-resistant and will maintain their beautiful, bright color — which is pre-selected by the patient — for many years to come.
Tooth Shape and Size: For patients with short teeth, misshapen, or uneven teeth, ceramic veneers are a highly effective option for creating a uniform, balanced smile. Additionally, small gaps between teeth can be concealed through the use of veneers.
Misalignment or Crowding: Depending on the severity of the case, both tooth misalignment as well as crowding may be addressed with ceramic veneers rather than through the use of traditional braces or clear aligners. Dr. Ross will evaluate many factors, including your bite, to determine whether veneers may be useful for you.
How Does the Procedure Work?
City Smiles DC takes great pride in providing the absolute highest level of service, both in terms of treatment and overall patient care and consideration. We fully understand that many of our Washington, DC ceramic veneer patients have exceedingly busy schedules and fast-paced lifestyles. To help make your care most effective and efficient, we proudly offer same-day custom veneer procedures thanks to our on-site lab and the highly advanced technique known as CEREC® (Chairside Economical Restorations of Esthetic Ceramic).
To begin the ceramic veneer process, our dental team will prepare the teeth by removing a small amount of enamel. Impressions and/or photos of the mouth will then be taken. At this point, our lab will move forward with creating the custom ceramic veneers, which can be ready in as little as two hours with our on-site CEREC® milling machine. We are committed to patient comfort and use local anesthesia, along with nitrous oxide if desired, to provide a pleasant procedure and dental experience. Once the veneers are ready, our dentists will permanently bond them to the natural teeth and make any necessary adjustments. In the event that the veneer procedure cannot be completed within a single visit, patients are fitted with temporary veneers until the permanent restorations are available.
There is little-to-no downtime following the ceramic veneer procedure, though you may experience some temporary sensitivity to hot and cold over the first 24 – 48 hours. Our team may assess your results at a follow-up appointment 7 – 10 days following the procedure and make any adjustments that may be needed. With proper oral hygiene and care, many patients enjoy their veneers for up to ten years or more without issue.
How Do I Get Started?
The most important step in pursuing ceramic veneers in Washington, DC and Northern Virginia is to select an experienced and qualified provider. Dr. Ross is one of the top leaders in the fields of cosmetic and restorative dentistry, ceramic veneers, and CEREC®. Patients can have peace of mind in placing full confidence in the knowledge and expertise of Dr. Ross, Dr. Spivak, and the entire team at City Smiles DC.
Call our office to schedule your consultation today and find out more about how ceramic veneers can change your life, boost your self-esteem, and give you the smile of your dreams!